Los Angeles is a cruel mistress. Or mister.  Or both, since it is Los Angeles we're talking about. Anyway, after a hard loss to the Dodgers, I wanted to go straight back to my virtual hotel room...
<---here...
(hey, I'm saving money for what's coming up next) but somebody in the party decided it would be best if we swung back down by a little dive we saw on our way to bulgogi in Koreatown: the HMS Bounty. Yarr.
After having been there once already, I can definitely attest to the fact that you want to go there for the grog rather than the food. I don't know how long we spend there, but after last night, I'm sure I'm kind of wobbly.
Anyway, when I finally wake up I've missed breakfast in the coffee shop downstairs from the hotel, but I want some retail therapy now, so I'm headed off to Melrose.
And no, I'm not buying my shoes at Foot Locker as I don't think they seem to take the cards I'm carrying or something like that. Anyway, it's best my friends at the Row don't know how much I plan on spending so why don't you guys go ahead to the Arclight for one of the better moviegoing experiences you'll ever have, so long as the film is good (stay away from conspiracy theorists and you should do alright). Stop by the first LA outlet of Amoeba Music next door while you're down there. It's not quite as cool as the one up the coast, but it's still pretty solid for finding the hard to find tracks you've been looking for.
I'm going old timey with the photo, but seriously, the first theater with a martini bar attached? You've got to admit that's kind of cool. The renovated theater has some amazing digital sound, and the big screen in the dome is ideal for your costly blockbusters. Of course, some movies just can't be saved. Anyway, for a late lunch I want to do some more shopping and personally trending toward, well, Eurotrash trendy chic, I think we can head over to Silver Lake where there are some more great shops to my liking. If we want to come back later after the game there are also some great clubs down here where you don't have to worry about starlet wannabes thinking you're trying to outskank them. Well, again, that probably doesn't apply to many of you, so uhm, to help us get over our grief from last night, why don't we take a short hop up Alvarado to Glendale and pay our respects at Casey Stengel's grave.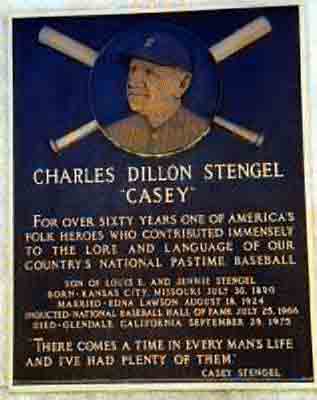 Psst... while we're there, get some evidence to help end this silly rumor.