Los Angeles had devastated me. I was crushed and disenchanted by the city of angels. All this way I had come to live the dream, the dream of a Rockies win, only to be thrown out into the mean streets of the city by the merciless establishment. Was it me? Even my friends turned their backs, saying I was the cause of the jinx. Dare I even set foot in San Francisco then, knowing that my virtual presence would somehow alter my team's reality into the nightmare our stay in LA had become?
I decided to seek answers in the off day. Real answers from virtual gurus as I drove half way up the coast toward San Francisco. After looking long for a sage to guide me, I instead found this guy stacking rocks. Whoah. Wait a second, a guy stacking rocks? It occurred to me that maybe he could help me understand why my Rocks are losing so much.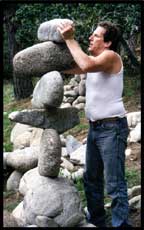 Needham explained that there are days when some rocks do not choose to be moved. In a sense they do not choose to cooperate or become part of a certain rock stack, and they become sort of stuck to the earth, unmoveable. The very next day, with another rock stack in formation, the same rock may call to him and be very participatory and eager to be in that rock stack and will indeed participate in being moved.
That's exactly what I thought! Garrett Atkins, stuck to the earth, unmoveable on defense, maybe he just needs to be stacked differently. Yes, I think on to something up here. Tell me more, Mr. Rock-stacker:
When I was interviewing Needham, he said "One of the most important things to remember is that this is all silly."
Well, I think losing to our Dodger rivals has a bit more relevance than that, but since it's coming from someone who stacks rocks, I might have to reconsider. Wait. Unless he's providing me a clue for where I need to go next...
someplace silly... where people do silly things maybe? A golf course!
Pebble Beach. It's all too creepy now. I write Pebble Reports just about every day. I don't think that's a coincidence. Is this where I find the answer? Look for something silly.., wait, what's that I see there.., a chimpanzee on crack? No, it's the ghost of Bob Hope walking like a chimpanzee on crack! (psst... the password is VincentPrice.)
Tell me spirit, the Rockies they are like zombies, lately. They don't score, they lack fundamentals, it's horrible. You tell the spirit, what I mean, Reference Boy.

No, even worse than Democrats, and I should know, I'm one of them. I'm talking completely listless. If we don't right this ship in San Fran, we'll be right back in the same situation in the division that we were last year.
No.., I meant the bottom of the standings, uhm, yeah.., so what would you suggest?
'I asked my good friend, Arnold Palmer, how I could improve my game. He said to me, 'Cheat!'
Yeah, it's great, these pearls of wisdom I get from dead Republicans. Anyway, perhaps I should just go and find a place to stay to think about this stuff. Later Bob, come along Reference Boy. We've got to get back on track tomorrow.