San Diego Padres (46-60 / 5th in the NL West / 15.5 GB)
2010 Record vs. COL: 4-5 (1-2 at Petco Park)

Last Series vs. Rockies: June 13-15, 2011 (L 1-2 at Coors Field)
The Padres are one of the very few teams that the Rockies have had any sort of success against post-April, as the Rox took two consecutive June series from the Friars - one at Petco Park and one at Coors Field.
The most recent series was played in Denver, and the Padres started off on the right foot by winning the opening game of the series, which was their third consecutive victory at Coors Field overall. Behind a decent effort from rookie starter Anthony Bass (5 IP, 5 H, R, K, 4 BB) and a dominating performance from the bullpen (4 IP, 0 H, 3 K), the Padres won 3-1. Chris Denorfia and Chase Headley each had two hits, while Cameron Maybin continued his assault on Rockies pitching in 2011 (1.273 OPS, 2 HR) with two knocks of his own.
However, the second and third games of the series were both won by the Rockies - each by a final score of 6-3. Juan Nicasio struck out nine batters in six innings in game two, and four different Rockies players (Todd Helton, Troy Tulowitzki, Ty Wigginton, Charlie Blackmon) had two hits. Chris Iannetta also hit a three-run homer to help the cause. Jhoulys Chacin dazzled in the finale, striking out seven while allowing just three hits in six innings. Everybody that stepped to the plate sans Jason Giambi had a hit for the Rockies; Blackmon led the way with three, while Jose Morales had a pair.
Headley had six hits in the series, while Denorfia had five and Maybin had four. The Rockies did the majority of their damage against Wade LeBlanc, Pat Neshek, Mat Latos, and Chad Qualls. They were pedestrian or worse against everyone else.
Latest Series Results: L 1-3 at Philadelphia; L 1-2 at Arizona
The 2011 Padres are much of the same as previous incarnations of the team, in that they can't really hit but sure do have a lot of arms. They boast five above-average players in terms of wRC+, but only two of them are "everyday players" in the true sense of the word. Chase Headley, who has enjoyed a very good under-the-radar season, leads the team with a 127 wRC+. If that's not good enough, he also leads all qualified NL third basemen in that category (technically, he's tied with Daniel Murphy but Murphy's as much of a major league third-sacker as I am). Cameron Maybin is not far behind, boasting a 122 wRC+ in what has essentially become his breakout season. He could stand to walk more and strikeout less, but those numbers in Petco Park for a 24-year-old are nothing short of impressive. Chris Denorfia, who has sort of morphed into a starter, has an OBP-heavy 110 wRC+, while backup catcher Luis Martinez has been good in a small sample, as well.
---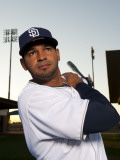 Jesus Guzman
---
AVG
OBP
SLG
2011 -

Jesus Guzman

.329
.372
.616
---
---
San Diego's most productive player of late has been Jesus Guzman, a 27-year-old journeyman who last appeared in the big leagues with San Francisco in 2009. The Padres represent his fourth organization, but he is making the most of his opportunity. SSS-alert fully activated, he has a 182 wRC+ with 13 extra-base hits in 78 plate appearances. Is he worthy enough of the KYF spotlight? Who knows. But, Padres fans should enjoy it while it lasts.
As always, the Padres have a stacked bullpen and a rotation that is more above-average than not. Rather surprisingly, the lowest performer of the bunch has been the one with the most upside, that being Mat Latos (87 ERA+). Tim Stauffer leads the rotation with a 116 ERA+, and Dustin Moseley and Aaron Harang (who is also 9-2 with a 3.45 ERA) have been better than average, as well. Out of the bullpen, Mike Adams has been dominant in every sense of the word. He has a 5.44 K/BB ratio, with 49 strikeouts and just 26 hits allowed in 48 innings. For the most part, everybody else has been good, but Adams is a man among boys. Adams, along with Heath Bell, are possibilities to be moved by this Sunday's trade deadline. That would certainly help the Rockies in the latter stages of this series (though they've beaten Bell once already this season).
Friday through Sunday: 3-game series at Petco Park

Expected Pitching Matchups
Friday, July 29, 2011 @ 8:05 PM MT

---
W-L
G
GS
CG
SHO
SV
BS
IP
H
R
ER
HR
BB
K
ERA
WHIP
2011 -

Jason Hammel

5-10
20
20
0
0
0
0
121.1
132
73
64
15
48
64
4.75
1.48
---
---
W-L
G
GS
CG
SHO
SV
BS
IP
H
R
ER
HR
BB
K
ERA
WHIP
2011 -

Tim Stauffer

6-7
22
21
0
0
0
0
129.2
124
48
44
8
37
99
3.05
1.24
---


Saturday, July 30, 2011 @ 6:35 PM MT

---
W-L
G
GS
CG
SHO
SV
BS
IP
H
R
ER
HR
BB
K
ERA
WHIP
2011 -

Ubaldo Jimenez

6-9
20
20
2
1
0
0
122.0
116
64
57
10
47
116
4.20
1.34
---
---
W-L
G
GS
CG
SHO
SV
BS
IP
H
R
ER
HR
BB
K
ERA
WHIP
2011 -

Aaron Harang

9-2
17
17
0
0
0
0
104.1
102
42
40
9
34
72
3.45
1.30
---


Sunday, July 31, 2011 @ 2:05 PM MT

---
W-L
G
GS
CG
SHO
SV
BS
IP
H
R
ER
HR
BB
K
ERA
WHIP
2011 -

Juan Nicasio

4-3
11
11
0
0
0
0
63.2
64
31
30
8
16
47
4.24
1.26
---
---
W-L
G
GS
CG
SHO
SV
BS
IP
H
R
ER
HR
BB
K
ERA
WHIP
2011 -

Dustin Moseley

3-10
20
20
0
0
0
0
120.0
117
59
44
10
36
64
3.30
1.27
---
Expected Lineup
| | | | | | | | | |
| --- | --- | --- | --- | --- | --- | --- | --- | --- |
| Name | Position | AVG | OBP | SLG | wOBA | wRC+ | HR | RBI |
| Cameron Maybin | CF | .279 | .331 | .409 | .340 | 122 | 6 | 27 |
| Jason Bartlett | SS | .245 | .309 | .299 | .283 | 83 | 1 | 23 |
| Chase Headley | 3B | .294 | .380 | .401 | .346 | 127 | 3 | 35 |
| Ryan Ludwick | LF | .238 | .302 | .373 | .299 | 94 | 11 | 62 |
| Jesus Guzman | 1B | .329 | .372 | .616 | .428 | 182 | 4 | 17 |
| Chris Denorfia | RF | .271 | .343 | .385 | .322 | 110 | 5 | 18 |
| Orlando Hudson | 2B | .243 | .340 | .320 | .302 | 96 | 2 | 23 |
| Rob Johnson | C | .207 | .261 | .307 | .256 | 65 | 3 | 11 |
Bench
| | | | | | | | | |
| --- | --- | --- | --- | --- | --- | --- | --- | --- |
| Name | Position | AVG | OBP | SLG | wOBA | wRC+ | HR | RBI |
| Luis Martinez | C | .273 | .273 | .545 | .353 | 131 | 1 | 2 |
| Logan Forsythe | IF | .197 | .265 | .262 | .231 | 47 | 0 | 2 |
| Alberto Gonzalez | Util | .210 | .253 | .269 | .227 | 44 | 1 | 21 |
| Kyle Blanks | 1B/OF | .100 | .182 | .100 | .146 | -11 | 0 | 0 |
| Will Venable | OF | .248 | .319 | .343 | .306 | 99 | 3 | 18 |


Closer

---
W-L
G
GS
CG
SHO
SV
BS
IP
H
R
ER
HR
BB
K
ERA
WHIP
2011 -

Heath Bell

2-3
43
0
0
0
30
2
42.1
33
13
11
1
16
31
2.34
1.16
---
Injuries
---
San Diego Padres Injuries
Probable
| Player | Injury Type | Injury Date |
| --- | --- | --- |
| Dustin Moseley | shoulder | 07/27/2011 |
15-Day
| Player | Injury Type | Injury Date |
| --- | --- | --- |
| Brad Hawpe | elbow | 06/19/2011 |
| Clayton Richard | shoulder | 07/05/2011 |
| Nick Hundley | elbow | 07/06/2011 |
60 Day DL / Out for the season
| Player | Injury Type | Injury Date |
| --- | --- | --- |
| Joe Thatcher | shoulder | 03/22/2011 |
---