Rockies prospect Dan Winkler has been tearing up the California League and through Wednesday he was leading the league in: ERA, Wins and Strikeouts. Dan was drafted by the Rockies in the 20th round of the 2011 draft and had a successful first season in Casper where he posted a 3.92 ERA to go along with a 10.2 K/9. Last season in Asheville was a step back for the Illinois native, where he admits he to putting too much pressure on himself before relaxing and leading the Tourists to their SAL League Championship.
I want to congratulate you on the fine season you're having. You're one of the leaders in the CAL league in strikeouts, ERA and most other pitching categories. Can you share with Rockies fans a little about yourself and what your pitching strengths are?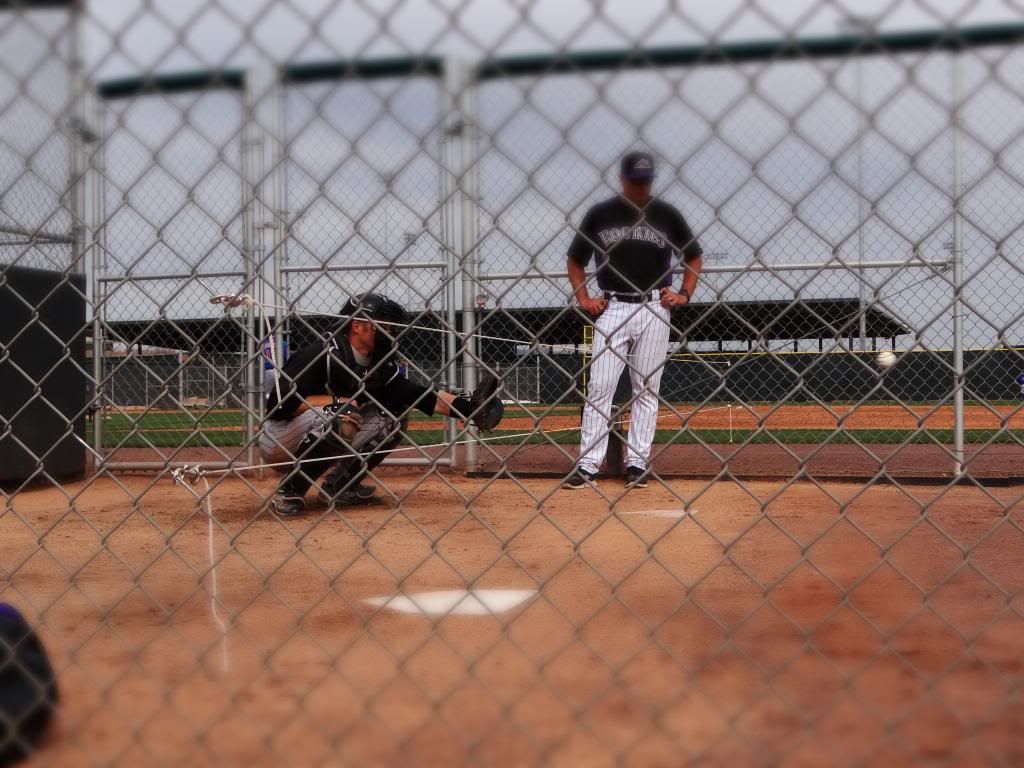 Dan Winkler says the Rockies teach pitching down in the zone. Note the two pieces of rope emphasizing pitch location. From Spring Training 2013.
Thank you for the congratulations, it means a lot. I just want to tell you my wife loves reading all of the stuff on Purple Row!
A little about myself.. Well I grew up in a small town of twelve thousand, went to a high school of 200 kids, so needless to say I've come along way from where I am. I'm married to my high school sweetheart, been with her almost 6 years. I'd say I'm laid back, easy going, get along with everyone, and really just try to be a good teammate and husband.
My pitching strengths I'd say are my arm slot, which is a lower 3/4. From what hitters have told me, especially right handed hitters, they don't see the ball well out of my hand. Also, I'd say I have a pretty good slider and sinker, at times, and that I just try to attack hitters.
You mentioned in an interview with MiLB.com that you were working on throwing your circle change better. How comfortable do you feel throwing it now and when in a count do you feel it's most effective?
Actually, this is pretty much the most comfortable I've felt with a change-up grip in my life. I've been throwing it slower, for a strike when I need to, and out of the zone when I want. In the past it has been too hard, I couldn't really control it, and was pretty much a non factor. Now I feel as if I can throw it on any count to righties or lefties.
Tell us a little about your approach, you've cut down the number of hits allowed by half this year. What are some areas you're working on and what are some areas the organization has asked you to focus on?
Well in spring training I was working with (Modesto Pitching Coach) Dave Burba and the first thing he noticed with me was that I pick around the plate too much. More of throwing to the black of the plate rather than the thirds. So just getting ahead, throwing first pitch strikes, and just attacking the hitters, making them beat me. Also, the organization implemented a few absolutes for all pitchers that have really helped.
Pitching down in the zone is a big one. Everyone knows you need to throw to the bottom of the strike zone, but now I feel it is stressed a lot more, and I love it. I think it has not only helped me personally, but the whole organization.
Last year you lead the entire minor leagues in hit batsmen, but this year you've trimmed it down a little. Were you aware that you were the leader and has that been an area you've worked on this year?
Yes I was aware that I was the leader and everyone kind of made a joke about it, which was pretty funny. We had some good laughs. Yet, it did hinder my performance last year because I was giving away so many free bags.
It wasn't as if I was wild, it was more of just throwing inside a lot. I throw inside quite a bit because I don't want the hitter to feel comfortable and want them to cover the whole plate, not just half. However, this year I feel as though I'm locating better with the pitch inside than I did last year, but still hitting my fair share of guys.
You lead a team of pitchers that owns one of the best ERA's in the CAL league this year, what do you attribute that to?
There are quite a bit of things I attribute it to. Mentally, I'm in a better place than I was last year. I put a heavy burden on myself to do well personally and it just backfired. I worried about a lot of things that were out of my control, and that's all part of the learning process. Later in the year I let those things go and just worried about helping my team win a championship. I have just carried that mentality into this year.
Also, I have to give it to my catchers. I know it's a cliche sometimes to say that as a pitcher, but I really mean it. Even though Swanner has struggled this year at the plate a little, he doesn't bring it out to the field. Him and Casteel are really good about that and staying on the same page with us pitchers. This is also my third year with Swanner and second with Casteel so they know me pretty well. It makes things a lot easier to pitch when they put the right fingers down.
Another thing I would attribute it to is Burba, this pitching staff, and our defense. It makes things easier on me to see guys like Story, Featherston, Massey, all the guys on the team, behind me making plays. And then there's our pitching staff. This is one of the most competitive starting staff I've been apart of. They will never let you let your guard down. However, they're the first ones to pick you up if you had a bad outing. We play catch together, help each other out with a pitch if it's not feeling very good or just something as simple as talking about hitters or a different situations that arise in the game.
Also, when we have guys like Roberts, Oberg, Gonzalez, Parker, and everyone in the bullpen who comes in, in the middle of an inning with my runner out there and get out of it for me, and then shut the door the rest of the way to get me a win, that's pretty special and I can't give those guys enough credit.
I know this part is long, but I have to also attest most of my success to being married. It has really helped me be more grounded and realize that baseball is now third, behind God and my wife. That if I have a bad game or day, she'll be there to help me through it and vise versa.
You mentioned on Twitter how the bus rides in California remind you of playing for Casper, can you share with us what it's like being a minor league player and some of the hardships you guys go through (playing so far away from your wife and family, etc)?
Being a minor leaguer is a blessing, but a very trying one somedays! The toughest of all the hardships is being away from my wife. Not being there for her when she has a bad day at work, or just a bad day in general, is very, very difficult. Only seeing her 3 or 4 times during the season is very tough but they are sacrifices we are willing to make for this opportunity. She is one of the most important things in my life and I love her to death for allowing me to chase my dream.
Also, the bus rides, the endless peanut butter and jelly sandwiches, and staying in hotels called the "Lamp Liter Inn" aren't exactly glamorous but they're things you get used to. By the way, the last time we were in the Lamp Liter Inn, my roommate Kenneth Roberts and I, changed rooms four times in three days. In two of them we couldn't set our bags down because the carpet was so wet from a water pipe that broke.
Out of curiosity, how did a high school kid from Illinois end up going to college in Central Florida?
Well, out of high school I went to a junior college in Champaign, Ill. where the University of Illinois is. I didn't get many D1 offers out high school because of how small my school was. After two years of playing college ball in the Illinois and pitching the first two games of my sophomore year in sleet and then snow, I decided I wanted to go south. My Juco coach, Matt Kennedy, did an amazing job of getting my name out there and getting me recruited by numerous schools. I visited UCF and fell in love with it right away and committed a couple days after the visit. Coach Rooney is a heck of a coach and I wouldn't change a thing about my decision.
(I want to thank Dan Winkler for taking the time to answer these questions and wish him good luck this year. Dan can be followed on twitter at @dwinkler15. Also, I want to thank Matt Muzia and Andrew Fisher for their contributions to this article.)
Notes on the Grand Junction Rockies

Several big announcements from the Grand Junction Rockies organization this week, including all home games will be streaming live on Milb.tv. The ability to stream video was installed in Suplizio field for the Junior College World Series this year (JUCO) and the Rockies will use it to showcase their 2013 roster.
Which leads to the other big announcement; the Rockies No.1 draft choice Jonathan Gray, will make his minor league debut in Grand Junction. There was some speculation that Gray may be assigned to the Tulsa Drillers in his home state of Oklahoma, but the organization continued it's strategy of developing top level picks in the Western Slope. Last season the Rockies assigned David Dahl and fellow first rounder Eddie Butler to Short-Season Grand Junction.
The @Rockies 1st pick and 3rd overall Jonathan Gray will begin his professional career with the @GJRockies.

— GrandJunctionRockies (@GJRockies) June 14, 2013
Other notable names assigned to Grand Junction include Ryan McMahon (3B, 2nd Rd), Alex Balog (P, Supp 2nd Rd), Joel Payamps (P, DSL), Ryan Garvey (OF, 2012), Miguel Dilone (2B, DSL) and Robbie Perkins (C, Australia FA).
Notes on the Tri City Dust Devils
Tonight is opening night for the Tri City Dust Devils, who open at home in Gesa Stadium. Many of the Dust Devil players are promotions from last season's Grand Junction team including: Jayson Aquino (P, DSL), Ryan Warner (P, 2012), Wilfredo Rodriguez (C, DSL) and Johendi Jiminian (P, DSL).
Several players were promoted from the Dominican Summer League and will be debuting in Pasco, Washington including: Angel Lezama (P, DSL) and Carlos Yan (P, DSL). Free agents Chris O'Dowd (C, 2012) and Marc Magliaro are also being assigned as Dust Devils. Other 2013 draft picks are expected to be assigned to Tri City as they sign with the organization.
Injury News
Rockies 2012 First Round draft pick David Dahl is recovering nicely from his torn hamstring. He jogged several times at a distance of 80-85 yards this week and reported to me there was no setbacks from the exertion. He said things were going well and he's hoping for a return in mid-July. Dahl was injured on May 6th while trying to leg out an infield hit.
Meanwhile, 2010 First Round pick Kyle Parker was diagnosed with a concussion after a game on June 5th. Parker was removed between innings with no collision or Carlos Gonzalez-type injury that appeared to befall him. According to the Tulsa Drillers, Parker will be reexamined in the next few days and is currently on the seven day disabled list.